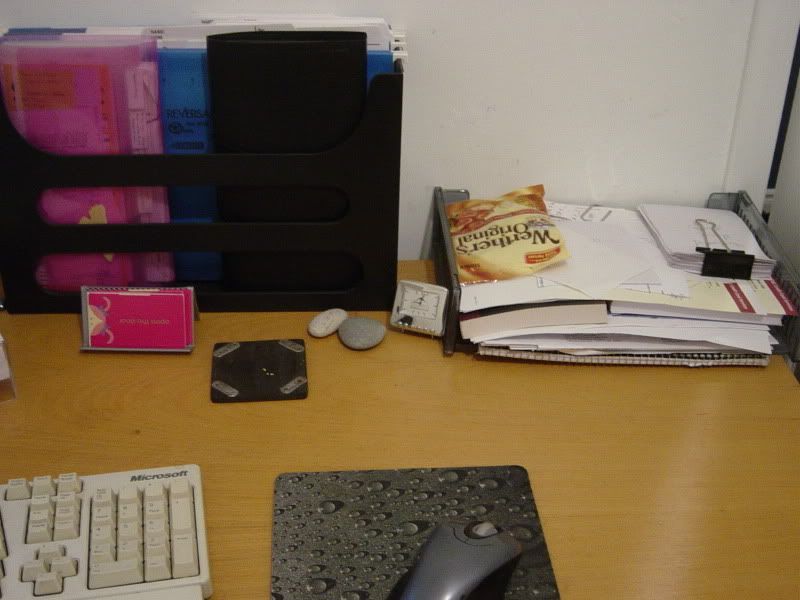 I realize that over the past while, I've mentioned a few things that I was working on, so I thought I'd list some updates. At the end of last year, I felt like my stuff and plans and gotten pretty out of control. Well, the time I spent organizing my stuff was well worth it. Remember when it looked
like this
?
And that's not even showing you all the stuff that's on the floor! The Getting Things Done book was helpful, but I found that there were some suggestions that I did not implement. The author recommends you not keep your to do list in your daybook, for example. But I find that really works for me. One thing that was great was how it encouraged you to look at everything, and I mean everything. It was a little overwhelming at times, but eventually I felt like there were no secret disasters waiting to explode and that was a good feeling.
I'm currently reading Organizing for the Spirit, which takes a really beautiful "get to know you" approach. The author looks at the process of organizing as a process of self-discovery, inviting you to get in touch with what is really important to you. This book was a lovely Christmas gift from my Auntie Laima.
At Christmas I was also inspired by something my brother-in-law said. He has a new approach to procrastination. Whenever he feels himself resisting doing something and feeling the impulse to procrastinate, he dives in and does the action right away. That way it is over and done and he's not carrying it around in his mind anymore. He said he feels so much freer since taking this approach. I believe it!
And as for last week's resolution about renovating my wardrobe, action has begun. I'm reading a bunch of Trinny and Susannah books for inspiration. And though I really don't like the language they use to speak about women's bodies, they do have a lot of good tips about buying clothes that are appropriate to your body. Yesterday I went through one drawer in my dresser and tried on every single item. I let go of anything that wasn't flattering or that was losing it's shape. It felt great, and it was easier than I expected. It made a big difference though to not do it alone. It helped me get out of my own rut and see things fresh. So there's a definite thing to add to the strategy list: enlist help when you need it!