Based on Shannon's recommendation, one of the books I'm currently reading is Getting Things Done by David Allen. Now, I know that everyone doesn't get all excited about organization stuff like I do, but man, oh, man, I love it! From the time I was a little kid, I loved things like sorting. You know, dumping things out into one big pile and then sorting it by colour or size or tastiness. I've always loved making order out of chaos, making sense out of gobbledygook. I used to ride my bike as far as I could, trying to get lost, so that I could have the adventure of finding my way back home.

One of the things that really appealled to me about this book is that at the heart of it is the belief that if you capture all of your "to dos" in a system that you trust, you don't have to keep it in your brain! I want to liberate my brain! I had an impulse to do this quite a while ago. I was feeling overwhelmed and decided to just write out everything I could possibly think of that I had to do just to get it out of my head, so I could feel some empty space in there for thoughts to rattle around in. That's one of the reasons why morning pages and journalling are good for me; they clear my busy brain!

At the front end of the Allen's system there's a fair amount of work but some of it involves sorting and labelling and making lists - mmm, yummy. And right now by the look of my desk: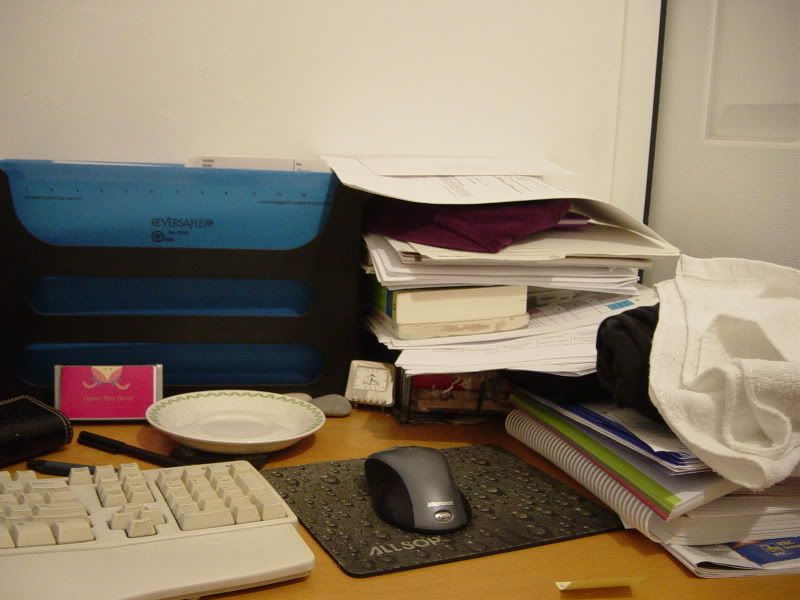 I could really use it. Now, I'm sharing this mess with you because I want to be able to celebrate with you when it looks all pretty and ordered. Celebrating is very motivating to me :) Hey, I guess I could have used that as my flawed self for SPC, hehe.