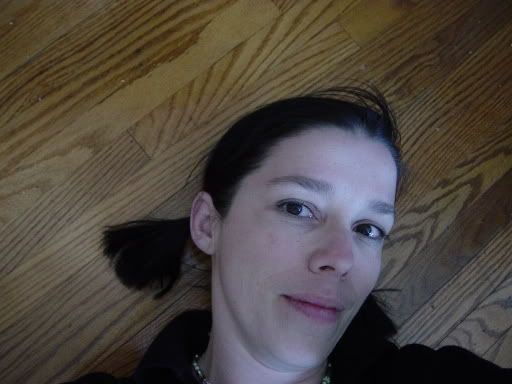 I can start the introduction by sharing with you what a special day it was for me yesterday. I want to thank everyone who participated in the first ever Shyne Like a Star Virtual Dance Party! Thank you for your comments and the emails you sent me directly. I love hearing what it was like for everyone! And it was Justin's and my 10-year dating anniversary yesterday too. To wrap up our festivities, we cranked up the stereo and danced like we did when we first met at the club. Awesome! I plan on inviting the world to dance every May 1! So if you missed it this time around, make sure to get your glad rags on for 2007!
Now, back to our regularly scheduled SPT. Why participate? Ego? Self-reflection? Self-acceptance? How about simply to remind myself to take more pics of me? In so many ways photos create our history, reinforcing particular memories and moments - and I don't want to be left out of my own story! Since owning my digital camera, I have about a gazillion pictures of my cats, a bazillion of my husband, our house, special events, my neighbourhood, flowers, the garden, etc., etc., etc. and well, um, not too many of me. I realize that growing up, family photos are like that too, but they are missing my Mom. She's the loving eye watching us all and capturing our special moments and memories on film.
My recent absence in pictures is in direct contrast to my baby years. As the first born in our family, there's a plethora of pics of wee Jamie. You know the ones: me chewing a plastic giraffe, me with glamorous sunglasses, me with spaghetti on my head. Once in school, the pictures that come to mind are those generally hideous classroom headshots that capture exactly who you were on a particular day in a particular grade, the worst of which for me I posted in the "All of Me" SPT challenge. (Actually, the second worst. I'm not that brave)
In grade 6 I received a camera of my very own. The fuzzy pictures of classmates and neighbourhood dogs recall the extent of the world as I knew it. Moving into junior high, candid snaps of friends were favourites. Though of course the same cannot be said for candid photos of moi. Burn them all! Some of my favourite pictures of this period in my life are of my brother and sisters laughing and joking around. We were a lively bunch, and it's clear how much fun we had together.
Once photos documented a significant growing up period for me without me ever making an appearance. I had reached that stage when a girl gives up most (rarely, if ever, all) of her stuffed animals. Instead of just popping them in garbage bags for donation, I decided to immortalize them by doing a portrait of each one. I put Racky the Racoon pose in a tree. I had Dofi Pico Michelangelo sit by the pool. Shaggy, one of my dearest dogs, stuck his head out the screen door to welcome me home. I consider this my first photographic "series."
And much later, another great moment chronicled in pictures: our wedding. The instensity of the pictures has really been too much to bear. I admit to you now that our pictures are still in envelopes in a plastic folder in our bedroom. We've been married for 4 years. And yes, this is on my list of 300+ things to do.
So, what I love about Self-Portrait Tuesday is the invitation to every week take a look at myself, take a pic and mark this moment in my life, this look on my face, this haircut, even this wrinkle, and know that there I am, making an appearance in my own history.