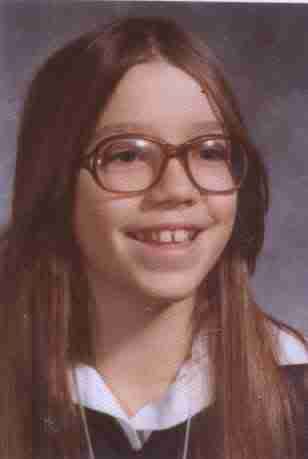 When I read this month's theme was "all of me, embrace your mistakes, love the ugly bits," frankly I was mortified! I was like, "Are you kidding?" And when I finally managed to lift my jaw off the floor I thought, "Okay, I'm going to be brave. Jamie, one of your big values is being brave. You can do it. Remember what Meg said 'I'm not fragile anymore.' Go for it."
Then immediately I knew what picture I was going to use. I knew it had to be my grade 7 school pic. I was so committed to sharing this picture that I dug into the deepest box at the very bottom of an incredibly full closet. And I found it. There it was, just as I remembered it. Check out the dorky brown plastic glasses. You'll notice I have a chain around them (oh, my!). I think that was to try and convince everyone that I didn't need to wear them all the time (a complete and utter lie) and I didn't realize that style-wise I was emulating our librarian. And the hair - oh my! The classic middle part and I don't think you can see it here but there's a big hunk of hair on the left sticking up under the chain of my glasses. And just when I was actually sort of starting to revel in just how horrid this picture was something changed.
For the first time I looked down and saw this little 12-year-old me. I looked a little fragile, and I looked a little hopeful. It was a tough year for me. We'd just moved to Toronto from my much-loved Montreal, and I'd started school mid-term. And, you know, I had a tender smile and an open face. I was a good kid with a good heart. Who cares if I had goofy glasses.