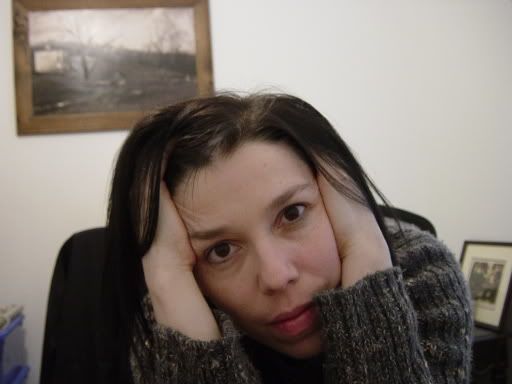 My name is Jamie, and I am a list addict. Generally I have found this to be a plus. When I've directed a show, my lists keep me, the cast and crew clear on who, what, where and when. When I got married, I had lists and lists to crosscheck other lists. A wedding organizer asked me where I had downloaded my forms from. Downloaded? These things stream out of my fingers with ease. It's like my own personal binary code. And, of course, when Shannon found 101 Things in 1001 Days, I jumped on board.

But recently I've been feeling a bit overwhelmed. I've felt like there's so much to do and rarely time to do it. I've been tired and fretful. This morning I knew that I needed to do something to gain perspective and clear my head. So, you guessed it, I made a list. I decided I would put onto paper every single "to do" item that just easily came out of my head, things that were niggling and nagging at me. Anything from getting flea medication for our cats to finally learning in full my first Nia routine.

I had almost 300 items.
This does not include my 101 list or our comprehensive list of jobs to be done on the house, though there is a wee bit of crossover as there were some things that were really pressing on my mind.
It suddenly dawned on me that this list is out of control. Out of control. So, what am I going to do about it?
I will make clearing this list of unfinished business a priority.

I will not take on any new projects or classes until items on my current list are done or dismissed. (This is a real challenge. I get excited and want to be a part of everything.)

While clearing the list, I am not going to beat myself up for only sporadically taking part in the all the things I want to do.

I will enlist help wherever I can.

I will take an honest look at where I am spending my time, energy and money and remove things I am not wild about.

I will remember that I am creating space for the things I truly love and believe in, from building

my business to creative time to having fun with those I love.

I will treat myself with gentle loving care, making sure I'm getting enough sleep, drinking lots of water and not over-compensating with caffeine, sugar, etc.

I will have fun and enjoy the process!
It's important for me to remember that I don't actually have to do anything on this list, not a thing. Every item is there because I chose to put it there. One of the very cool things is that looking at this list makes it very clear what my priorities are: my loved ones, my home, my business, my creativity and my self.