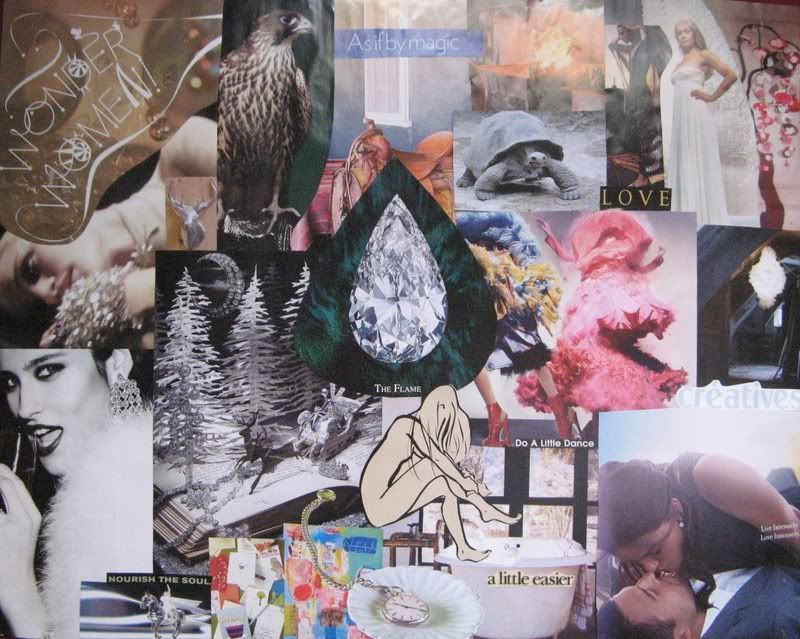 For this session of The Next Chapter, I'm leading a group through 12 Secrets of Highly Creative Women. The energy and inspiration is amazing! Just email me
if you'd like to join us.
This week's secret is honouring your inspirations.
Over the years, one of the ways that I have consistently recognized and reinforced my inspirations, tastes, interests and priorities has been through collaging. Generally, I let myself choose images very intuitively and then I put them together and see what there is to discover. This week I thought a great exercise for honouring my inspirations would be to look at my current Dreamboard and see what my choices reveal.
Dreamboard Inspirations
I believe in magic.

I'm currently longing for ease, relaxation and self-care.

I love sparkle.

I relish the amazingness of women.

I'm learning that slowing down doesn't mean easing up. Slow can be powerful.

I feel the power of focus.

I love and am attracted to intensity.

I believe in a world of magic and wonder.

I want to study Soul Coaching with Denise Linn.

I want to put on my show about the Snow Queen.

I love fantastical, epic tales.

I'm passionately in love with my husband.

I want to connect and communicate with wonderful, creative people.

I love to move.

I am deeply connected to the rhythms of life and am coming to terms with growing older.

I appreciate and enjoy luxury.

I feel the fire of my soul.

I have some attitude.

I love to celebrate.

I am determined.

Art is a part of my life.

My spiritual connection is always with me, always a part of me.

I am an adventuress.

Shine! Sparkle! Glow!
Some of these things are very familiar to me, others are new and some took me a while to recognize. This week I'm going to think about how I can integrate more of these things into my life, especially "slow and powerful." That's an entirely new energy for me, and it's calling. It will be interesting to explore.
I hope you're inspired to make your own dreamboard. Feel free to join us each full moon. For more information, click here.
And don't miss out on my interview with Sacred Suzie this week. You can hear it here.