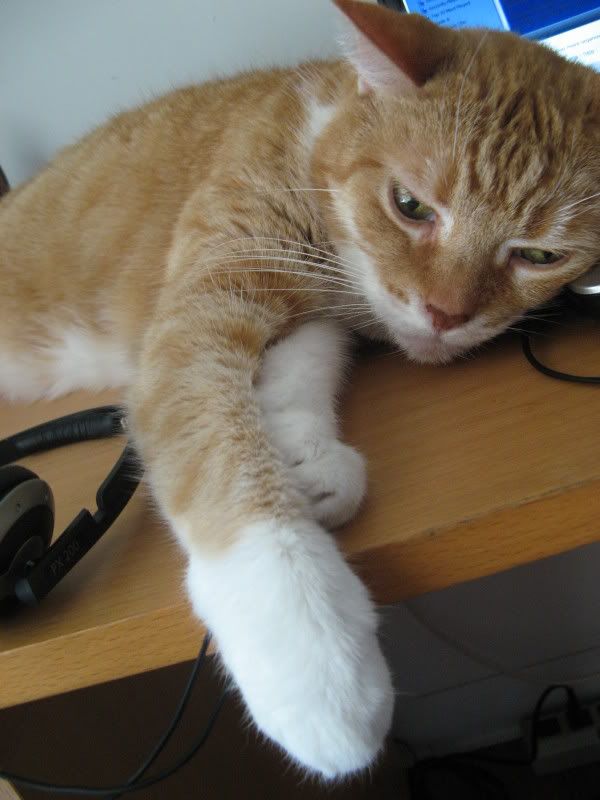 What do you think Jinx is feeling right now?
Our bodies send the world lots of signals about who we are and how we're feeling. That's what we're focusing on today for our
Soul Coaching
journey. Denise Linn talks about how we can impact our mood and our lives through our physiology and how we carry ourself. This was also something I learned in acting studies; in creating a particular posture, we stir certain feelings and body responses.
I took this exploration to the Nia class I taught tonight. Our focus was on self-expression. To end the class we walked around the room, taking on different emotions and sensations. As we walked, I had the class imagine their entire bodies from toe to tip of nose filling with a particular feeling. We started with physical sensations like feeling our bodies becoming heavier and heavier or filling up bit by bit with helium.
And then everyone picked a quality that they would like to embody, a feeling like happiness or ease or strength or determination. You could pick one now. And then imagine that sensation first filling your toes, your feet, your ankles, your legs, on up to your pelvis, abdomen, ribs and chest, all through your arms and hands and fingers, up through your neck and head. Imagine fully embodying that feeling. Notice what's different. Notice your physiology and your feeling. They are connected.
You can choose what energy you would like to fill yourself up with and what you choose can be felt, experienced and expressed through your body.
Isn't that a trip?