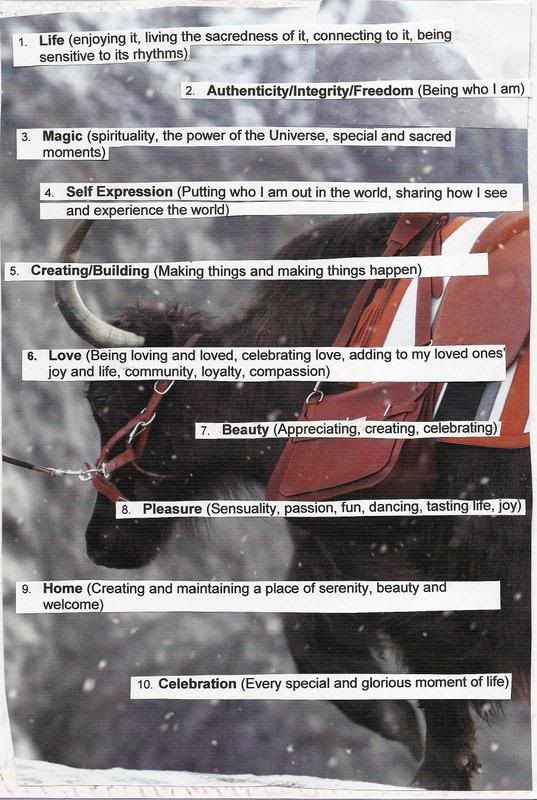 Today those of us participating in
The Next Chapter: Soul Coaching
are exploring Air Week, a time for clearing our mental selves. Today's task is about assessment.
Denise Linn
offers great exercises in this chapter, each with varying levels of time commitment. I'm doing the "Going for It" exercise of assessing where you are and where you'd like to be but the measure I'm using is one I turn to as a touchstone regularly in my life and with my clients: my values.

I took each value and wrote in my journal where I was really honouring that value and what more I would like to do in that area. As Denise puts it, "Where am I? Where would I like to be?"
For each value I made 2 affirmations - one is a celebration of what I'm doing and the other is an area for growth.

Steps & Leaps

1. Life
I honour life through awareness of and embracing the rhythms of the season and of myself.

I honour life by lovingly attending to the needs of my body, in particular respecting the oscillating rhythm of movement and relaxation.
2. Authenticity/Integrity/Freedom
I honour authenticity/integrity/freedom through choosing to follow my own path and run my own business.

I honour authenticity/integrity/freedom by taking the time every morning to connect with myself and my desires through activities such as writing morning pages.
3. Magic
I honour magic by cultivating awareness, particularly to synchronicities and other messages from the Universe.

I honour magic by creating a daily practice for connection.
4. Self-Expression
I honour self-expression by creating daily collage cards for journalling.

I request the Universe's help in moving my forward in honouring self-expression.
5. Creating & Building
I honour creating & building through my work, whether it is creating my own business or launching a project like The Next Chapter

I feel fulfilled in this area.
6. Love
I honour love by living in gratitude for the relationships I have and the love that surrounds me.

I honour love by actively expressing my care and concern for those with whom I have an intimate relationship.
7. Beauty
I honour beauty by appreciating it every day.

I honour beauty by inviting more of it into my home and wardrobe.
8. Pleasure
I honour pleasure by taking the time to savour what I am experiencing.

I honour pleasure by recognizing I am more available to pleasure when I am full of vitality than when I am full of chocolate.
9. Home
I honour my home by investing effort, time, money and care in renewing its appearance.

I honour my home through consistent care, cleaning and decluttering.
10. Celebration
I honour celebration by acknowledging the turning of the seasons.

I honour celebration by following through on the celebration promises I make to myself