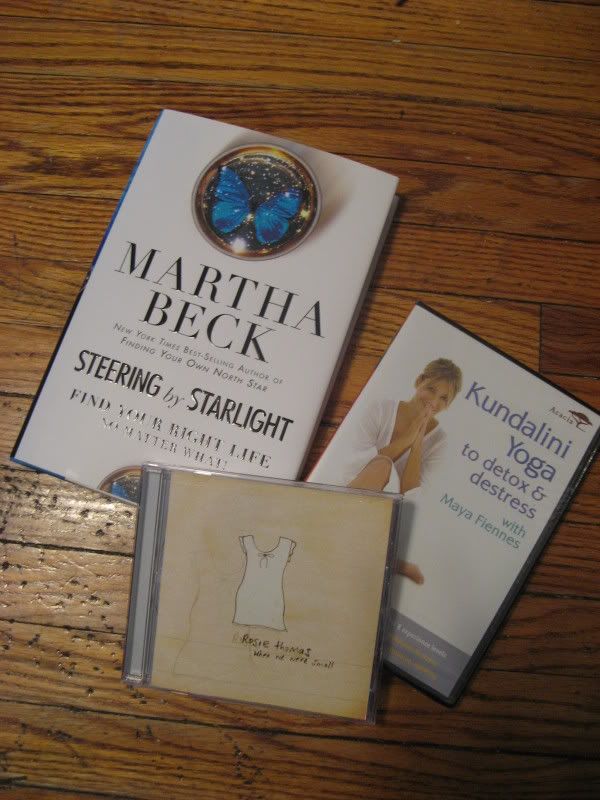 I'm so happy that I've created my own DIY Entertainment Club. Every month I put aside some money to invest in a book, a cd and/or a DVD.


This month I got Martha Beck's new book,
Steering by Starlight
, which I am really enjoying so far. Later on I'll have to introduce you to the lizard in my brain - a bespeckled and studious gecko named Worrywort. Did that pique your interest?


I also bought a Kundalini Yoga DVD by Maya Fiennes. You can see the intro
here
. Kundalini Yoga has always fascinated me for a variety of reasons. The basic precept behind this yoga is that we all have energy, sleeping like a serpent at the base of our spine. This form of yoga helps to release that energy. I suffer from lower back pain that very much feels like solidified energy, so my instinct was 'this is for me.'


Also, what I continue to hear is that this yoga is among the most esoteric (read 'woo woo') and that piqued my curiosity. It involves chanting and mudrahs and is said to provide powerful healing for the nervous system. I'm very curious to check it out. If anyone has any experience with Kundalini Yoga, I'd love to hear about it.