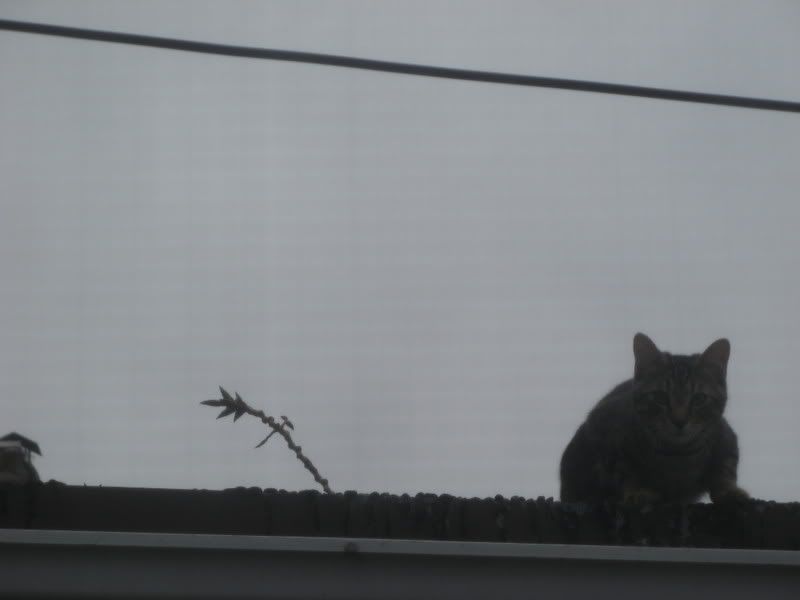 Well, I have a shocking update on the cat situation. Apparently they won't be returning to our garden because the poor little things have been abandoned. Their owners have moved out and left them stranded inside the apartment. Luckily one of our other neighbours heard their all-night meowing and contacted the Humane Society to come and take them. This is doubly positive because apparently the landlord thought the best solution was to poison them and dispose of them!
As much as I'm thrilled the little tykes won't be peeing in my tomatoes, I am so sad for all that they've been through. I can't understand letting cats, especially young ones, out right where we are. We live on a very busy street in a neighbourhood filled with racoons. One of the cats had managed to get themself stuck on a roof at least twice that I witnessed. And one of them was caught up in a tree for days! And still, they let them out. I sincerely hope these little ones find a loving and safe home where they will be nurtured and cared for.
And speaking of nurturing, yesterday my Month of Me treat came from the wonderful Sabine. Sabine came over to interview me for her series of Leaving Academia podcasts. When the results are up, I will let you know so you can hear my story of leaving my doctoral studies, if you're interested. The interview itself was so much fun to do. I had a blast participating. But the M.o.M. treat was Sabine brought popsicles and we sat on our deck chatting and enjoying. I told Sabine I felt like I was a kid who was having a friend over to play. It was great.
Is your spirit feeling more like these abandoned kitties than nurtured? Join Michelle's Month of Me and do something to nurture your spirit every day in May.