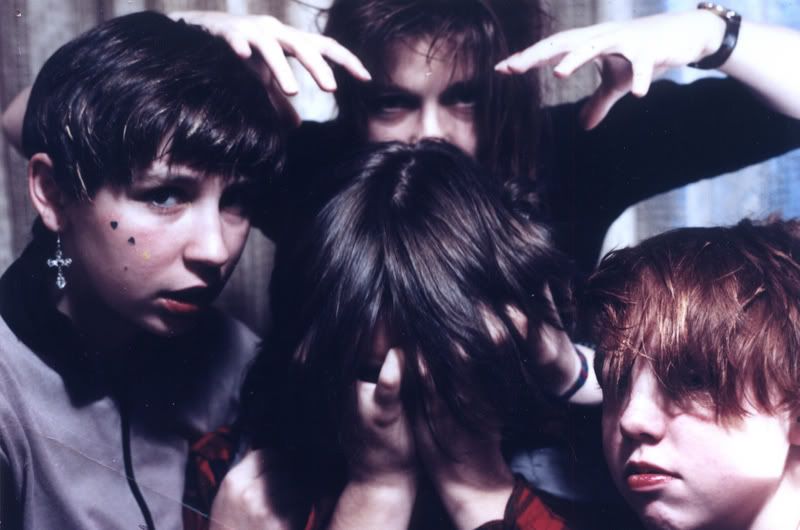 Oh, my sisters (Suzie on the left & Shannon on the right) are probably going to laugh when they see this picture. I think my brother (Jason, in the middle) will just feel relieved that he buried his face in his hands for this shot! This picture was taken by my Mom for an assignment in art school to create an album cover.
This month's Self-Portrait Challenge is "with someone." Here I are some of the most special people in my life. I am the oldest of 4 kids and that has a huge impact on who I have become. I've been a caretaker and a confidante. I've been a shoulder to cry on and a cheerleader. I've changed diapers, made dinners and flipped pancakes. I've been a babysitter and an entertainment coordinater. Mostly I hope I've been a good sister.

The bond between the siblings in our family became tight, tight, tight, when our parents' marriage started falling apart. We were each other's sanctuary. Together we shared our fear and pain or escaped from it. For a while one of the options on the table was even that the four of us would end up living together on our own. At the time, that seemed ideal.

And now?

Suzie and I live far across the country from each other. Thank goodness for email and digital pictures. Blogging has been such a gift because we can follow each other's adventures in this way. She's a deeply spiritual and strong woman with passionate views and a caring heart. She's a nature girl with a love of the ocean and a connection to animals. She's a gifted photographer, poet, writer and artist. She has found great love with her husband, a wonderful man.

My brother, Jason, is in the same province but miles away. I still remember when my mom found out she was pregnant with him. My best friend and I jumped up and down on the pull-out couch because we were so excited by the news. He was such a happy baby, full of love and joy. I adored him on sight. Now he's dedicated to his doctoral studies and to his writing. Recently he had a great speculative piece published in an Australian magazine. He has real gift, and everyone who knows him will say he's also got an awesome sense of humour.

And I'm blessed that my youngest sister, Shannon, and I live in the same city. In fact we've often lived together. She was full of beans from the moment she arrived and remains so to this day. She always wanted to be involved in everything, and if she wanted attention, well, she just sat in your lap. (Um, don't ask me if she still does that now, lol) All grown up, she's a dynamic woman full of talent and overflowing with an infectious laugh. She can run rings around numbers and loves lists, film, fashion and potatoes. And she makes kick-butt stuffed mushrooms.

I feel so lucky to have these creative, smart, sensitive, supportive people in my life. If it's true that we pick our families, dang I did a great job with these guys!