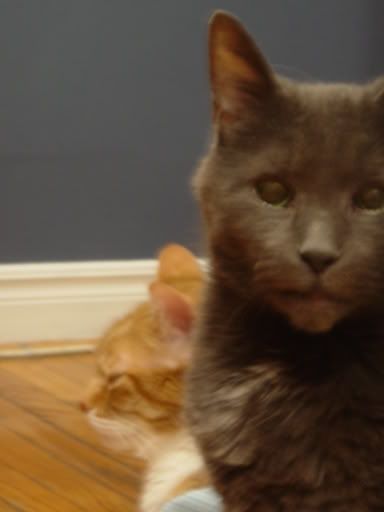 My sister Suzie tagged me on this one. Feel free to grab it and run with it if you haven't done it yet.



The A
BC's of me....

Accent: I don't think I have one, but does anyone? I remember moving to Toronto from Montreal, I thought everyone had an accent. It was an accent best illustrated in a sentence like, "Are you wearing your new pants to the dance?" So nasal, us Torontonians!

Booze: Red wine in winter, especially a lively Shiraz. White wine in summer, especially a tart Muscadet. Beer after a movie, especially Keiths or in the summer, apricot wheat bear.

Chore I hate: Taking in dry cleaning.

Dogs/Cats: Two cats, Bascha and Jinx.

Essential Electronics: computer, cordless phone, phone headset, iPod, home theatre surround sound system.

Favorite Perfume: Delicious

Gold/Silver: Silver.

Hometown: Toronto.

Insomnia: Not that often, but when I have it - brutal!

Job Title: Life Coach.

Kids: No, not in my cards.

Living Arrangements: Living in our own house with my beloved.

Most admired trait: I'm guessing here - maybe joie de vivre, maybe bravery. If you're thinking something different, I'd love to hear it.

Number of rings on your fingers: 4, my engagement ring is on my right hand and my wedding ring is on my left. I have a thumb ring and I have this spectacular ring Justin once bought me with an engraving for the goddess, for Jupiter (my planet), Sagittarius and a sign for alchemy (meant to represent my moodiness. (And btw, this question originally asked how many sex partners you had, but I changed it, hehe)

Overnight hospital stays: None, and I'm very thankful.

Phobias: The dentist, deep water and heights.

Quotes: "I am only one; but still I am one. I cannot do everything, but still I can do something. I will not refuse to do the something I can do." (attributed to Helen Keller, Josef Karsh and a variety of others)

Religion: That's between me and the Universe.

Siblings: I am so, so blessed to have 2 sisters, Suzie & Shannon, and a brother, Jason.

Time I usually wake up: 6:45 - isn't that painful? And I'm waking up earlier as I try to partake in Morning Pages!

Unusual talent: I can shuffle off to Buffalo (tap dancing)

Veggies I refuse to Eat: Squash.

Worst Habit: Not answering the phone.

X rays: Not recently.

Yummy food I make: I make a great smoothie, and a favourite meal at our house we call the "Rosty"

Zodiac Sign: Sagittarius!