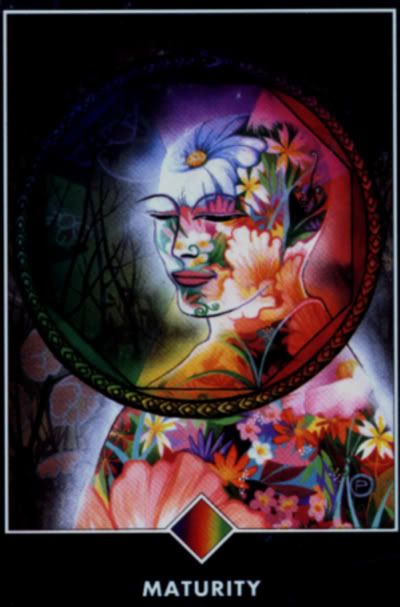 I was so touched and inspired by people's comments yesterday. Thank you. The interest and positive feedback around the Tarot Coaching has really added to my enthusiasm and momentum in developing this process. I have been a student of the tarot for years. The picture above is a card from the OSHO Zen tarot deck. I pull a card from this deck every day to seek insight. I find the pictures beautiful and compelling, and the message is always one of guidance and acceptance. I do not use this deck to do readings for others, nor would I recommend it for someone learning the tarot. It can be rather untraditional.
I've had the great good fortune to have wonderful people in my life be test clients for the Tarot Coaching sessions that I am developing and that I hope to launch in May. It is a highly personalized experience between the client, the tarot and me, the coach. Sessions tend to be about 2 hours and involve us going through a reading together. We put down a spread and then look at the cards for insight, direction and inspiration.
Tarot Coaching is not the passive experience that readings generally are. I will never look at the cards and say, "A new job opportunity is coming up, and you should take it." Instead, I'd ask you to look at the relevant card and tell me what you notice. Like right now, if you look at the card at the top, what stands out to you? What's the first thing that draws your eye? When you think of that image, what does it remind you of? How does that resonate with what's currently going on in your life?
I would also share with you what I notice, and ask if that has any resonance for you. So, for example, tonight I look at this card and am really drawn to the flower that's on the forehead. In fact what I notice is that it almost seems to be moving, swirling. I might ask you then, "What's swirling around in your mind?" And I would also share with you the traditional meaning of this card. In this case, this card is the ace of pentacles. It always represents a beginning, sometimes an opportunity, and generally in the field of career or finances. We'd discuss what that might be pointing to in your life.
All of this would also be done in the context of whether this card represents the present, the past, what you're moving into, who you are, what you're afraid of, what you're dreaming about, etc. We also look at the trends in the cards, the themes, the colours, the repeated images. This really provides lots of opportunity for self-reflection, exploration and honest discussion. And we take our time with each card, sitting with it until we feel we've received the message it is there to share.
And a crucial piece is that I work with you to figure out what you want to do with this information. This isn't designed to be 2-hours of entertainment, though I'm sure we'll have fun together! It's really meant to deepen your understanding of your self and your situation and also to help support you in incorporating what you've learned into your life in a meaningful way.
Why I absolutely love this work is the sacredness of creating a space and time for someone to encounter themselves, and with the tarot, you will always encounter your self. As the Tarot coach, I have the honour of holding the space, of facilitating the experience, of witnessing this magical encounter.