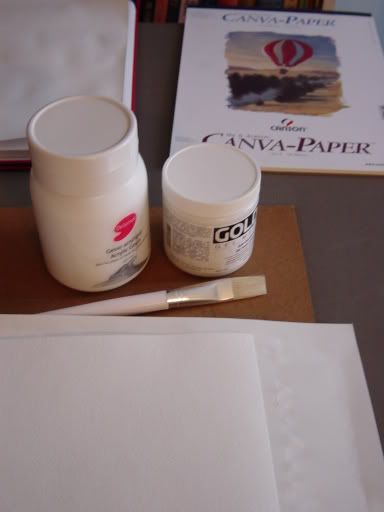 What does heaven look like to me?
I found this Figment to be the toughest so far and by far. First of all, "heaven" sounds so religious and, like Frankie recently explored, I too know that I am deeply spiritual, but I am not religious in the slightest. So that got me stuck.
And then I started thinking, well, what's my view of "the spiritual." I started imagining the cosmos and how we're all connected and how I might convey that. I thought of the sky and stars and the big blue marble. But I still felt kind of disconnected, uninspired.
Then I thought, well, maybe I won't participate for this one. Maybe I don't have an idea of what heaven is. That's okay. Though if next week's hell, I've got a few thoughts!
So I put that behind me and started working on something I'm interested in but kind of-- Who am I kidding? That I'm totally scared of: creating a mixed media collage journal. When I look at people's work online my tummy sort of drops, and I get completely overwhelmed. I have to take a good long break from it, and then I'll find myself drawn back for more. I have no idea where to begin. I've read voraciously all sorts of blogs that give clues about how people actually create their work. What kind of paper do they use? What kind of paint? How did they print that? What adhesive? Was that crayon? And still, I'm scared.
So I've been using a great Julia Cameron technique. I've kind of been sneaking up on it. Saturday I cleared of the table I would work on. Yesterday, I pulled out paper and books I might try out. Today I popped to the store and decided to buy some stuff to play with: gesso, Golden soft gel medium, a small book with watercolour paper and some little kid paint. (I've also learned that a great way to get past being intimidated by art is to play with the stuff you played with as a kid)
When I got home I decided that all I would do would be to gesso some pages (as one blogger suggested), paint a couple of pages (as another suggested). That's it. That's all I was going to do. I put on my little blue painting apron. I put my hair in a ponytail. I put on some music, and I just painted some paper with gesso. As I stood there watching this paper curl and that paper lie a bit flatter, I suddenly thought, this is it. This is heaven. I feel safe. I feel like me. I'm doing something I love. Heaven.