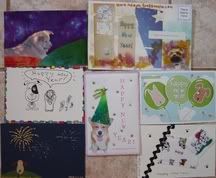 And so the wonderful postcard swaparoo is complete. I'm sorry that these postcards took a while to post. I had put them up but blogger had that "moment" last weekend, and I lost it. Let's look at the wonderful people who created these postcards. Top left was made by Bethieee. I'm wild for the colours! Thanks, Bethieee. And thank you for your awesome kind words about my blog.
Top right is from Robyn. Robyn pointed me to postcrossing, which is really cool. I've participated in bookcrossing, which is also awesome. Thanks, Robyn!
Middle left is a such a happy card from Mari. Thank you, Mari! And I absolutely agree with you about the joys of having a cat! I have two (Jinx is on my lap right now) and they are blessings! Thanks, Mari!
In the centre there is a happy corgi from Wendy. It has lots of sparkle and beads! Very cool. Thanks, Wendy!
And speaking of sparkle, on the bottom left is a puppy looking at fireworks from Hayley. Thank you, Hayley. And thank you also for coming to my blog and for your really nice words.
On the middle left is a happy, happy card from Maxine. It's funny; I had admired this card online before I received it. It's so cheerful. Thanks, Maxine!
And in the bottom right is a lovely card from Stephanie. I love the flannel on it and found that I just couldn't stop touching it. Thank you, Stephanie!
Thank you again to everyone who sent me a postcard. And if you received one from me, I really hope you liked it. Participating in this was such a blast. I'd do it again in an instant. And thank you especially to Myra for organizing the event. What a treat! Good karma for you!