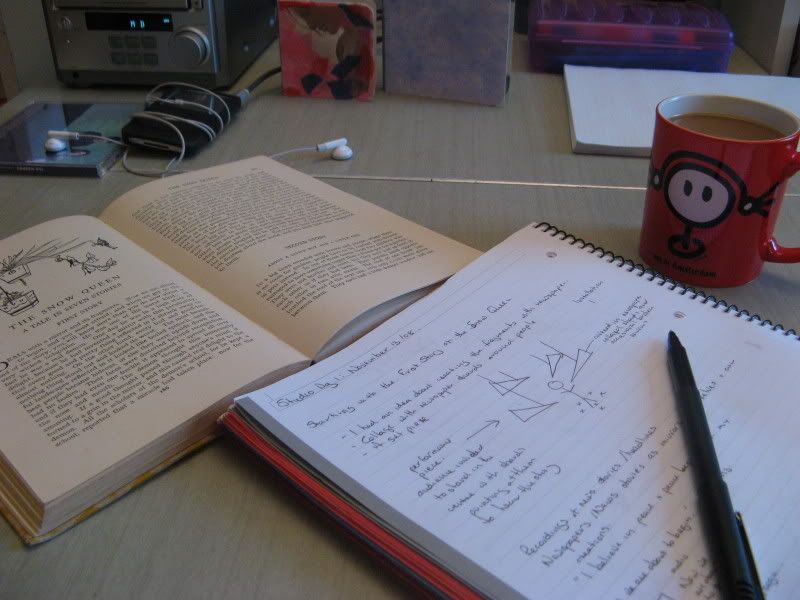 "Now we are about to begin."
The Snow Queen. Hans Christian Anderson.
When I first started coaching, one of my goals was to create a schedule that allowed me to spend time on my creative work. Today I took a major step towards that goal. This was my first official Studio Day. I've promised my creative spirit that she gets Thursdays until the end of this year, and then we'll talk about what happens next. (I have a funny feeling Thursdays are locked in for a very long time)
I got up at 6:00 this morning so that I could take care of some business and promised my creative spirit that we'd be in the studio at 9:00. As 9:00 got closer, I felt resistance rising. At 9:02 my spirit got insistent. I could literally hear her saying, "You promised. Let's go."
And so I did. And I started working on a project that has been in my heart for years: The Snow Queen. I see this as a multi-disciplinary theatre piece and today I sat down and plotted out the first story (there are 7) - the characters, the flow, the space, the sounds. I looked at the words, the images, the themes. I read the text out loud while playing different kinds of music in the background to discover different tones. (This is really fun. I'd really recommend trying it, maybe with some of your favourite poetry) I played with the dialogue. Sometimes my studio time sounded like me saying a sentence over and over, faster, slower, repeating one word, shouting a few, starting again. It was a lot of fun, totally engaging and 100% pure love.
And so, although I wasn't "doing nothing" as Soul Coaching requested of us today, my creative spirit, for the first time in a long, long time, was still.
Isn't it amazing that the first line of the show is "Now, we are about to begin."
Today I appear on Life Dev as a part of a series of interviews with creatives. How awesome it coincides with my commitment to Studio Day! If you're interested in hearing a little bit more about my creative life and my advice to creatives, you can read the interview here.