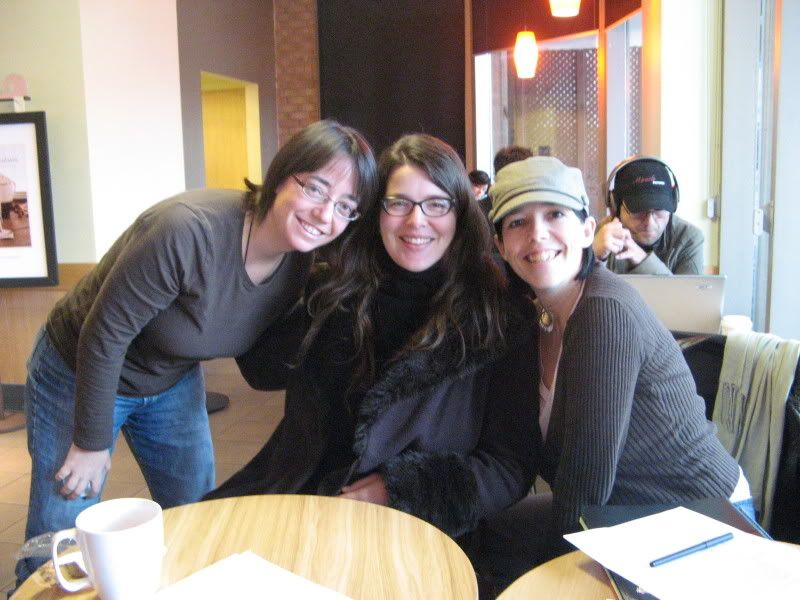 With
Soul Coaching
happening every day in November it will be a little bit of a challenge to sneak in my Project 365 posts but I'm sure I'll manage. In fact, I think following that process of clearing and connecting is going to be so wonderful after an action-packed October!
Above is a picture of me with Polly and Sabine of my super-charged accountability group.
On Monday, Suzie helped me with working through some ideas for my web architecture. I was absolutely thrilled about some of the discoveries we made and am looking forward to a full revamp of my site soon.
Tuesday was our last dinner of Suzie's Toronto adventure.
Wednesday was a really quiet day. After an uber-early morning, Suzie made it safely home to the east coast.
Thursday I went to the library and really enjoyed the most perfect fall day you could imagine.
And then BOO, before we knew it, it was Halloween! Halloween is such a special day at our house. With all the recent excitement, we kept it pretty low-key but still had a delicious dinner of stuffed mushrooms (thanks, Shannon!), smoky corn chowder and burgers with homemade fries. And of course, there was chocolate.

How was your week? Project 365 is my attempt to capture a year in my life through a photograph a day. On Saturday's I'll post the week's pics. At the end of the year, I'll create a video of all these precious moments. Feel free to participate at any time. Yours can be Project 347 or Project 292. It's up to you.