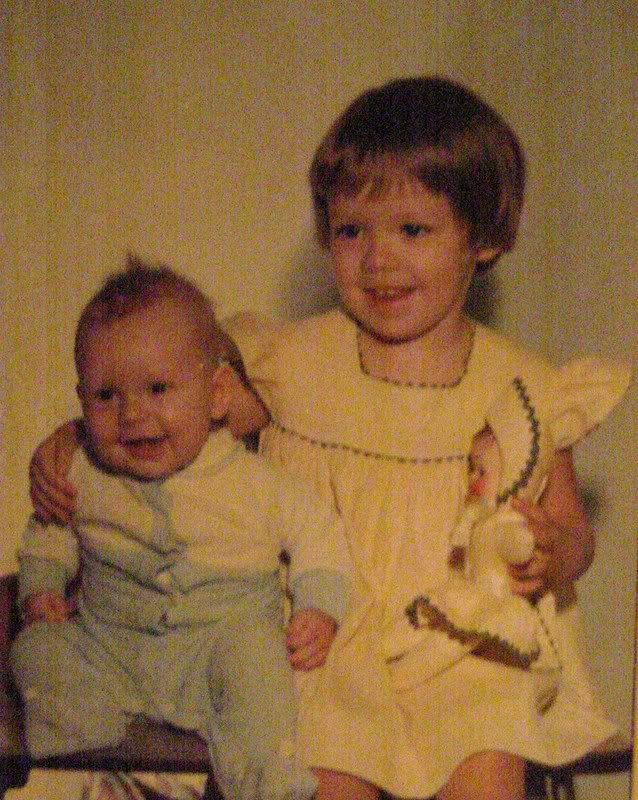 I remember what I wear. I remember how special it was to wear this yellow dress that my mom made for both me and my doll. And I remember how grown-up I felt being able to hold my brother for the photoshoot.
My clothes are an intricate part of my memories. I remember...
my favourite red shirt with the alphabet on it that my mom made for me

that by grade 6 I loved clothes with drama - the red shirt with the ruffles down the front, the pink blouse with the voluminous sleeves (I still remember what the sleeves felt like against my arms)

the brown full-circle skirt that my friend Carol sewed for me in junior high

the cowboy hat I got for my 16th birthday from my friends

wearing red to my formal while all the other girls wore white, yellow or baby blue

the grey leg warmers I wore to shreds at dance class

the beautiful white dress that was too formal to wear anywhere but I'd put it on now and again just to see what it looked like

the first time a bought something I had seen in a magazine (white Esprit flats)

receiving my Latvian ring

my first pair of good-quality shoes

the grey suit I wore for my grandmother's funeral

discovering that you can wear Docs anywhere, with anything

clubbing in long black evening dresses, a short gold one and every now and again army pants and a tank top

the moment I tried on my wedding dress with a veil (That was a real "bride" moment for me. I cried)

discovering

Jamie casual
I've really enjoyed taking a look at what I wear for SPC this month. It's been a journey of self-reflection and of owning that I really care what I wear. Thanks SPC!
For more self-portraits, go here.