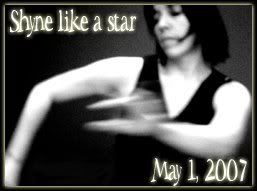 The 2nd Annual Shyne Like a Star
Virtual Dance Party
May 1st , 2007

All you have to do is
Dance



On May 1st you are invited to celebrate life by moving and grooving.
All you have to do to participate is dance for 15 minutes.
Choose some tunes that move your soul.
Dance alone. Dance with your mom.
Dance in your kitchen. Dance in the park.
Just dance for 15 minutes on May 1st and join the Dance is for Every Body Revolution.

In 2006 people danced from Austria to Australia, from the east coast to the west coast of North America.
People danced by themselves.
People danced with their kids.
People even put dance on their meeting agenda!
What's your dance for 2007?

Spread the joy ~ Invite people to dance!

Dance is for Every Body