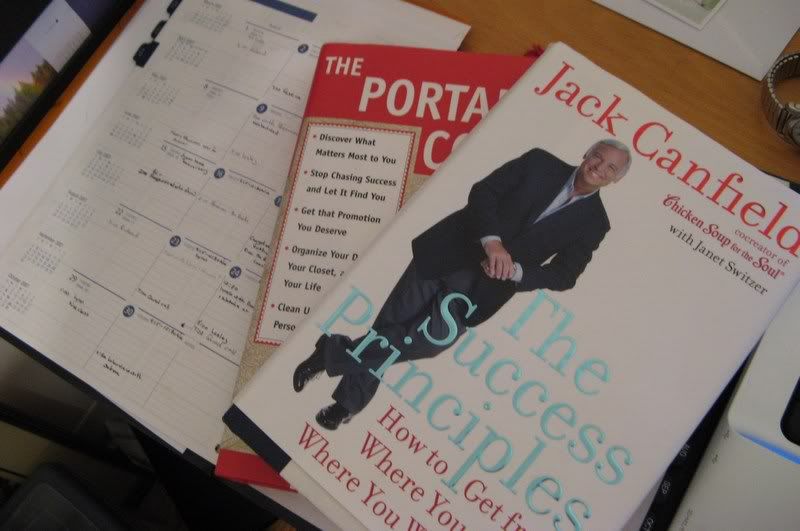 Well, I have been absent from Blogland for a little while and for lots of reasons. One reason I'll write about later this week. And the other thing that set me off kilter was I got stumped by Jack Canfield's Principle 7: Unleash the Power of Goal-Setting. You see, at the same time as I'm working through these principles and sharing them with you, I am reading Thomas Leonard's The Portable Coach. And as I was considering the power of goal-setting, I was also reading about unhooking yourself from the future. I had a complete "does not compute" meltdown, which was great because it made me explore my assumptions and do some serious re-thinking.
I'll be very interested to hear your perspective.
Jack Canfield's take on goal-setting is to make your goals as specific as possible, to make them measurable and to phrase them in a way that not only makes clear "what" but also "by when." So instead of, "I want to start teaching regular Nia classes this year," I would say, "By September 1, 2007, I want to be teaching a Nia class Mondays at 5:00 pm, Wednesdays at 9:00 am and Sundays at 11:00 am with a minimum of 10 students enrolled in each class."
To support you in making these goals as real and present in your mind as possible, Canfield suggests writing all your goals down, large and small, and reading them three times a day. He suggests creating a goals book with a separate page for each goal and illustrating it and adding to it regularly.
In contrast, Thomas Leonard talks about how focusing so intently on goals and what they will bring us can seduce us into becoming entirely focused on the future and not living in our present. He talks about how people create conditional happiness for themselves with these kinds of goals. For example, how often have you heard, "When I've paid off my debt, then I'll start to enjoy myself," for example. The approach that Leonard suggests instead is, "A better future will find you, no effort required, because you've made the most of the present you've been given."
Getting detailed and specific about plans and ideas has definitely worked for me in the past. And visualizing, especially collecting images of things that I desire, has also supported my dreams. But I do have to say that when my life has flowed the best, when the most wonderful things have occurred, it has been when I've been rooted in who I am, had a general vision of what I wanted and been open to the specifics as they've showed up in my life. When I've been overly concerned with things playing out precisely as I'd imagined them, it has tended to shut things down, tighten things up and doesn't leave room for things that are wildly better than I imagined.

I'm curious to hear which has worked out better for you, detailed visioning and goal-setting or focusing on the present and being open to possibilities.