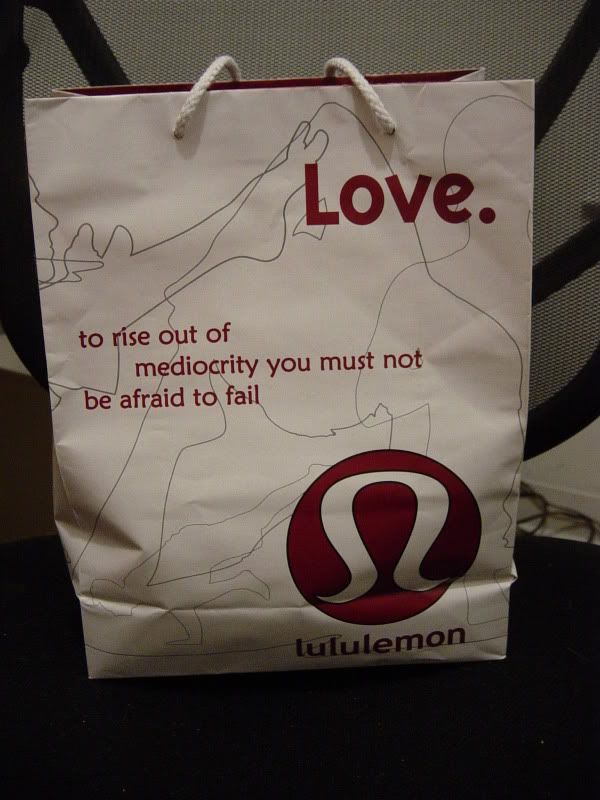 Lululemon
wasn't the store I was thinking of when I put this on my list, but it certainly qualifies. I've walked into the store once before. My eyes sort of glazed over, and I walked straight out. But this time I went in on a mission. Justin gave me a gift certificate for Christmas, and with my Nia blue belt training starting this Saturday I thought this was the perfect time to make the attempt.

As I walked through the store, my eyes started glazing over once again. Very friendly, pretty and perky staff stepped in and asked if I needed help. They explained the mysterious ways of the store, how tops are organized by level of support and bottoms by tightness to looseness, that they hem pants on-site and how the clothing is designed perfectly for comfort and function. Everyone was nice and helpful. The quality is obvious, and the styling is wonderful. And look at the bag. One of the things they say they stand for is "Love." How can that be intimidating? And look at the quote, "To rise out of mediocrity, you must not be afraid to fail." I'm a coach, for goodness sake. That's got "Jamie is my target market" written all over it. So why did I still feel ill at ease? Where's the disconnect?

One obvious reason is that this price point is certainly higher than I have ever spent for workout wear, perhaps with the exception of a weight belt I bought years ago when I was seriously working out. I bought
this tank
in white ($48) and
these pants
($89). Seriously. There's a part of me that's going, "What? You spent that to sweat in?" And there's another part of me saying, "Yes, and they're beautiful and feel luxurious on my body. I love them." Which voice is stronger? I'll let you know. The receipt's still in my wallet.

And one thing that really bothered me, and they'll get a letter from me about it, is that their sizes only go up to 10*. Size 10 is their largest size. 10! And there was something there that just sent a ripple through me. It was like this world of quality, beauty, fitness, health and vitality is only for those who have already attained it. I understand that it's meant to be aspirational. But in some ways it feels like beautiful things for beautiful people with a big budget.
I guess it highlights for me that one of my big values is inclusion. One of the reasons that Nia touches my heart is that everyone is welcome to come and dance. You can be young or old, thin or not, experienced or a complete newb. You can just enjoy the pleasure of your body and the joy of movement. And that is priceless.
Note: Online apparently their sizes go up to 12, but in the store I went to the largest pant was a 10.