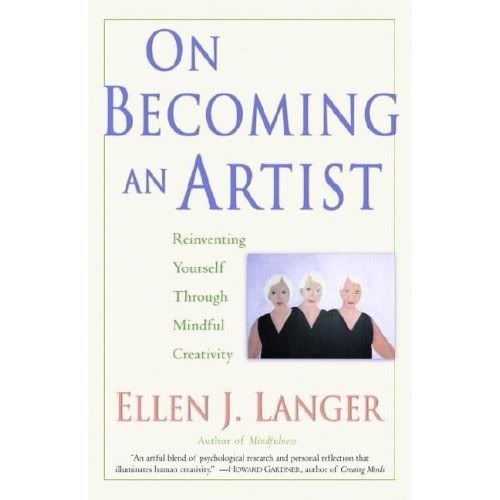 I've just recently picked up On Becoming an Artist by Ellen J. Langer. It feels different than self-help, inspirational books on creativity. I found this book in the Psychology section. Ellen Langer has researched into written about mindfulness, which she describes here:

"Mindfulness is an effortless, simple process that consists of drawing novel distinctions, that is, noticing new things. The more we notice, the more we become aware of how things change depending on the context and perspective from which they are viewed. Mindfulness requires, however, that we give up the fixed ways in which we've learned to look at the world."
In this book, she applies mindfulness to creativity. She talks about how our mindlessness of what we've already learned about the world and ourselves serves as a roadblock to creativity and encourages us to open up to the power of uncertainty and thus, creativity.

"But think of the benefits if we actually made choices instead of following a script."


And here's the line that has really left me thinking:
"When we stop experiencing ourselves, we end up treating ourselves as objects of evaluation."
Does that mean that an antitidote to self-judgment lies in simply becoming connected to ourselves in the present and truly experiencing who and where we are? This makes me think about the mirror meditations that Liz is encouraging people to be a part in.
How could you experience yourself today?