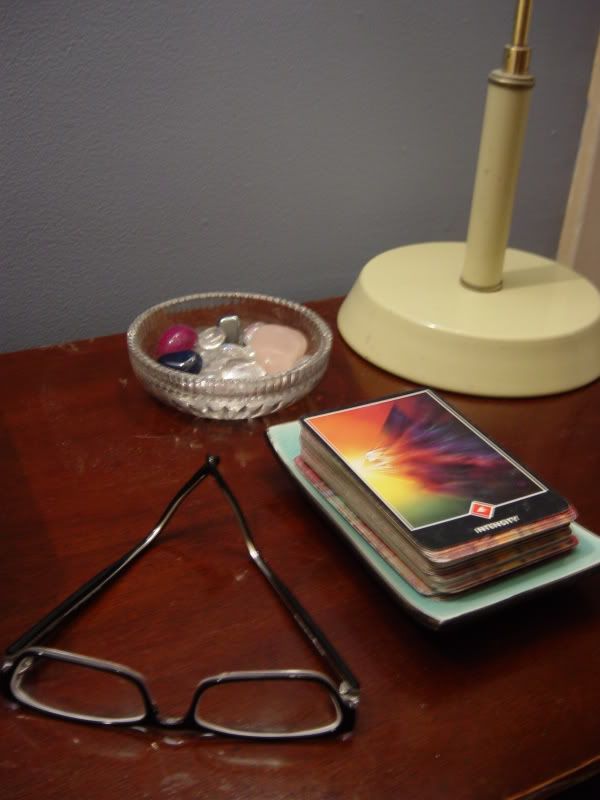 It has been a while since I've posted about my progress on my 101 List. I have now completed 10 tasks, almost 10% of the work at hand! Yay! Though when I looked at my list again I had totally forgotten about #48: Try a trapeze. Why did I think that was a good idea? hehe.
#37: Buy new glasses ~ Complete.

This is the recent big completion (hence the picture). I have to say that it was quite an ordeal. I went into 3 different optical stores (2 of them I went into twice) and tried on just about every pair they had in the store. Finally I went with these black frames, and I'm feeling okay about them. I wear my contacts almost always when I'm out (in part because of my love for glamorous sunglasses), but it's a beautiful thing to have a pair of glasses you're not embarrassed to be seen in!
#18: Leave my day job ~ Progress. For those of you who have been following the drama, I have informed my boss of my intention to quit, though I will continue to do some contract work over the next while as they need and is convenient for me. It feels great to make space for the the things that are meaningful to me in my life: my coaching practice, my creative practice, my soul.
#23: Take 100 Nia classes ~ Progress. Man, I'm only at 6. I should have counted up how many classes I have to do per week to make this number. I have one regular class that I go to a week, and my intention is to amp it up to 2 for July. I'm hoping to get more immersed in preparation for my blue belt in November.
#88: Get window coverings in the kitchen ~ Progress. Yes, Justin and I have lived in our house for 2 years with 3 bare windows in our kitchen and neighbours close by. Today we bought some sheer blinds that we're hoping will work well, providing some privacy while still allowing light to filter through. We'll attempt to put them up this weekend. Wish us luck! Hopefully I'll be able to share a picture of our success next time!
#98: Go for a Thai Yoga Massage ~ Progress. I have saved the money to do this. Now it's just a matter of booking it. Thai yoga massage is incredibly intense. I did a 10-minute demo session at a yoga show and couldn't believe the relief I felt when I was done. I can't wait!
See my full 101 List

here

.
Find out more about 101 Things in 1001 Days including other people's lists

here

.