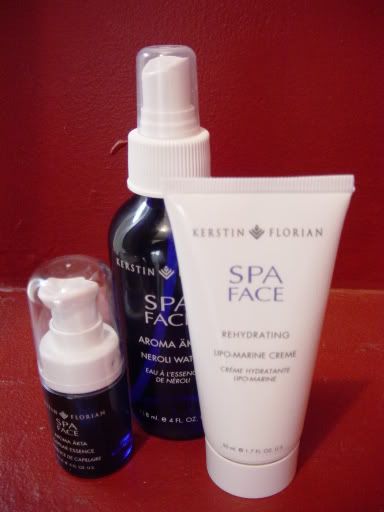 I am participating
101 Things in 1001 Days
. I've made a bit of progress, but the going feels a bit slow. I do have to remember that I have 2 1/2 more years to complete it! LOL. I'm such a keener though, I want to knock things off every week. This week I can take at least one thing off my list. To see my full list, click
here
.
101 Things in 1001 Days
Start date: March 5, 2006
End date: December 1, 2008

Newly completed
91.
Get moisturizer from an aesthetician.
Done! This week I went to the spa for a facial. I have to say that is one of my all-time favourite things. I may even enjoy it more than a massage. I hope to schedule at least 2 facials a year into my routine. The last few times I have been I really wanted to buy a very light moisturizer. This time I did, and it felt wildly indulgent.

In progress

1. Pay off my student loan.
Made larger payment.

17. Invite 6 people over for dinner, starting with Mom.

Mom's coming for Easter dinner tonight.

21. Create and fill an art journal.

I am thrilled to say that I have created my art journal. Every day I have been excited to add to it and create in it. Every day I keep a gratitude journal where I list 5 things I'm thankful for that day, and an acknowledgement journal where I list 5 things I've accomplished that day. Now I do that in my art journal. I've also incorporated my desire for a wish/prayer/spell book. My intention was to put in words what it is I want and let the Universe know. I am also doing this in my art journal, and it is bringing me great joy!

24. Have my taxes up to date.

This is 98% done. My taxes are up to date. Justin has to complete his for mine to be filed. That should be done before the end of the month.

25. Take my vitamins every day for a month

Almost done. I started March 20.
36. Create and keep a spell/prayer/magic book
Created! See number 21. I will consider this complete when the book is finished. But I'm guessing I'll continue with it in some form or another.
37. Get new glasses
In progress. I have my prescription. I've been shopping 3 times, but have had a hard time finding frames I like. I'm finding this really frustrating. I really hope to have new glasses before our trip to Holland in May.
73. Send 100 thank you notes.
I'm changing this to "appreciation" notes. This might mean just sending someone a letter to say, "You know, I think you're awesome." I have sent one. 99 to go.
101. Give myself 15 minutes of chair-and-stare time a day for a month
I am almost done this. I started March 21. I have found this a really great exercise. I find that sometimes when I'm in a stressful situation, that's the time I'll decide to take my 15 minutes. There's something really valuable about being with your own thoughts every day.