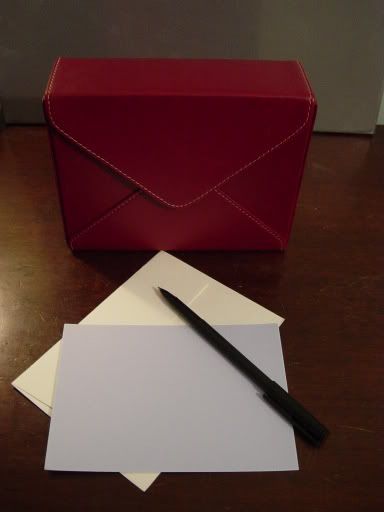 One of my favourite tasks on my 101 Tasks in 1001 Days list is writing 100 letters of appreciation. I enjoy it so much that I've decided to keep a record here of how many I've written and who I've sent them to. I will update this regularly. Hopefully 100 times!

I chose this task because I am passionate about letting people know how wonderful they are. One of the beautiful things about blogging is that the opportunity to let someone know you are touched or moved or inspired by them is built right in! Maybe that's one of the reasons that I like it so much.

One of my heroes (and I know he didn't like that term) is Leo Buscaglia. In a lecture I watched broadcast on public television he talked about a bright young woman in one of his classes who he noticed because of her smiling eyes. One day she stopped coming to class. When he asked other students about her, no one knew her name. She had taken her own life.

I want to know people's names. Now, I do I live in Toronto, so that might get overwhelming. But what I do mean is that I cherish those moments when somehow you have a magnificent, real, people-to-people connection. And I cherish that people are bold and go after their dreams, that they speak their truth, that they are who they are. I cherish when people are kind and funny and sensitive and strong. And when I cherish someone, I want them to know.
Appreciation Letters Sent:
To

Shauna Major

to tell her how awesome it was to receive the cd that she has worked so hard on. It is so exciting to see her dream manifest.

To one of my CTI examiners for sharing with me the most touching and inspiring feedback. What he said will forever be etched on my spirit and gave me huge confidence to move forward.

To Kayla, the student hair stylist at the Aveda Academy who cut my hair. She was meticulous in her work and both sensitive and professional in her care of me while I was there. I also wrote to her instructor to let him know what a wonderful job Kayla did.

To a woman who I may do some work with for her vision and the way that she inspired me.

To the manager at Indigo on behalf of one of his employees. While I was looking at books, this man was helping a woman find items on her list. She also had many questions about what other work certain authors had been up to or what else might be interesting on a particular topic. He was so thoughtful, so polite and so kind that I was touched and felt his manager needed to know what a treasure he has working for him.
Who do you appreciate? Do they know?