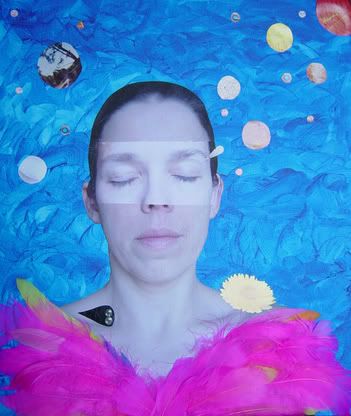 This was my entry for this week's Illustration Friday for the theme: Song. This is also my first mixed media collage piece. Yay! I did it. And what's more, I had fun. In celebration, I want to share with you a poem by Lorna Crozier. I pulled out some of her poems that I had tucked away, looking for the rest of the one I quoted yesterday. In its stead, I offer this:
Put a Finger to Your Lips
by Lorna Crozier
My heart lies sleeping in the rushes
in a willow basket lined with cotton.

It is sleeping until it learns to be gentle.
It is sleeping until a woman lifts her skirts
and wades in the water to claim it
though it would rather live
in a red fox, a willow basket.

Lovers circle in the shape of swallows,
devour mosquitoes and the heart's malice.
Shooting stars trace its history across the sky.

In its dream it puts on feathers,
it puts on turquoise slippers.
In its dream it plays Billie Holiday
on a gramophone.

Put a finger to your lips, don't disturb
the angels dancing on the heart's pins.
In white rushes it is learning
to be gentle.