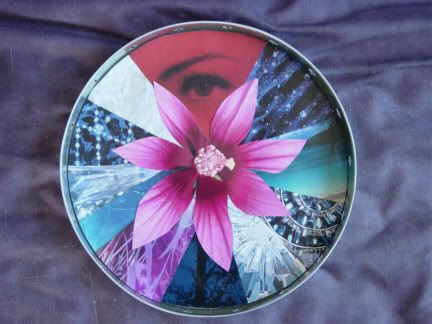 When I was doing my coaching training, one of our assignments was to bring in something that represented ourselves. I went home that night and made this collage. It sits inside a tray that was the centrepiece at our wedding. And in the centre of this I put a candle in a fantastic frosted glass container that has "magic" inscribed all over it.
I was so excited to share my creation when I arrived on course the next day. But it quickly became apparent that I was the only one who had made something. My excitement soon turned to self-consciousness. Everyone else brought pictures or something they carried with them. People told stories about representative moments. It was just the kind of moment my gremlin loves, "Jamie, who the hell do you think you are? This is a little pretentious, isn't it? I mean, no one else strolled in with a little homemade art project." And of course, it invoked other people's gremlins too, "Oh, were we supposed to make something? I didn't realize that. I just brought this photo. I hope that's okay." What a strong hold conformity has! As soon as difference arrived, insecurity came in holding her hand.
But coaches being coaches, we moved through the discomfort to find out what treasures were hidden in there. And truth be told, everyone's piece, whatever it was, was absolutely delightful. We asked each other what was significant about the words, the shape, the colour, the texture of the item. What memories did it bring up? In what way was it significant? What secrets did it reveal?Each item provided an opportunity to get to know each other better, to gain insight into the values and qualities of the person sharing the item. It also allowed them a chance to be seen and to have their own glorious uniqueness reflected back for them to see.
Having that kind of a conversation about my piece evoked a particular word, one that still has lots of resonance for me today: sparkle. I love things that sparkle, whether it's jewelery, champagne or someone's laughing eyes. And when I sparkle, I'm not self-conscious. I know that the gift I have to share is me. And when my gremlin asks "Who the hell do you think you are?" I say, "Jamie! And ain't that the greatest?"