I missed last week's Project 365, so I'm here with 2 weeks that were clearly about the kitchen reno and
Your Creative Spark
. A couple of weekends ago, we had decided to do some comparison shopping for appliances and were excited to find a RONA near us. Much less excited when we arrived and it was, um, tiny.
So, we trekked out farther, but this was definitely more the size we needed. What's funny though is we came home with more tile samples but totally forgot to look at appliances. Man, we're losing it!
Finally, our choices have been made: floor tile, backsplash and countertop. The paint colour's still in process, but this one worked well.
Waiting for the bus after my haircut. I can't believe it's still so cold.
I am finally making some real progress on design for my website. It may end up being a really big transition for Starshyne Productions too. I'm still working out all of the details. Luckily the wonderful Tara of Elastic Mind is helping me.
And the packing up of the kitchen begins! Those farmer peas are from my mom. What's wild is you make a traditional Latvian meal with them, which is my heritage on my mom's side, but you buy them at the Dutch store, which is Justin's heritage!
On Friday Shannon came over to help continue packing. And she pulled out these awesome armwarmers that she knit, cables and all, and I just loved them, so she gave them to me! Thanks, Shannon. You rule!
On Saturday Justin and I spent the entire day moving furniture and cleaning in preparation for the kitchen reno. At the end of the day we were eating takeout and having a beer while sitting on the floor.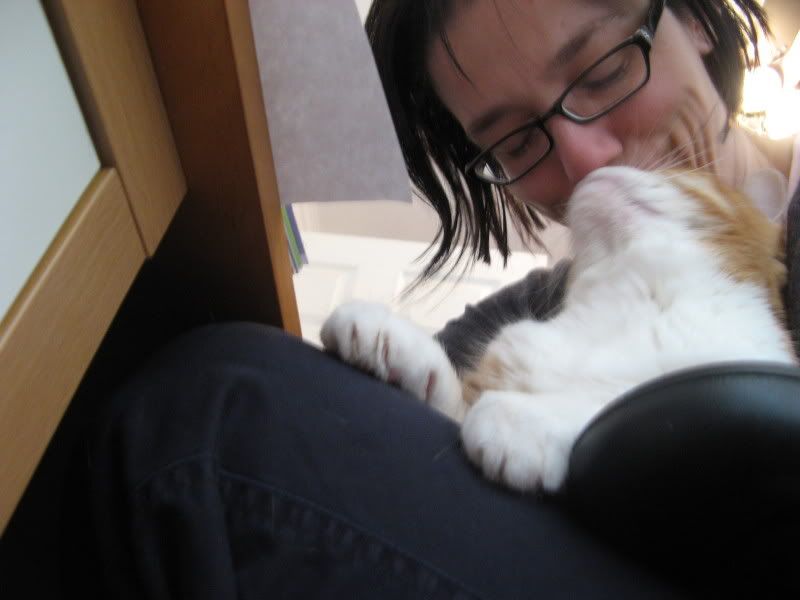 Monday I had a wonderful day of coaching, working on Your Creative Spark and having the lovely Jinx keep me company.
Making the last cup of tea before all the appliances get moved out and work begins. I won't miss the pink, though I'm sure someone really liked it when they put it in. When we moved in, even the baseboards were pink.
This is our temporary kitchen. It's actually quite a cozy setup and we have everything we need while the work is done. (Remind me I said that)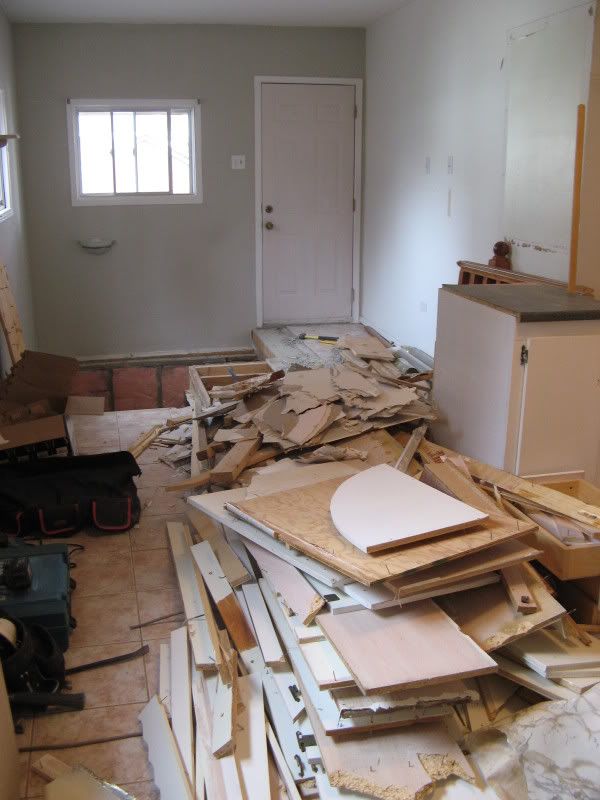 The first day of demo work.
Friday was an absolutely fabulous day with the Celebration Call for the close of The Next Chapter: The 12 Secret of Highly Creative Women edition. It was a wonderful call full of laughter and the wisdom of celebration.. You can listen to it here.
And that marked the launch of Your Creative Spark: Inspiring Interviews with 12 Highly Creative Bloggers. I'm so excited about this project and all the creative inspiration within. You can find otu more about it here.
And I met up with Shannon afterwards to celebrate. And because it was Friday! We had a rockin' time hanging out and chatting about all the amazing things that are going on.
I am filled with gratitude.
Project 365 is my attempt to capture a year in my life through a photograph a day. On Saturday's I'll post the week's pics. At the end of the year, I'll create a video of all these precious moments. Feel free to participate at any time. Yours can be Project 347 or Project 292. It's up to you. See the results of my Project 365 ~ 2008
here
.