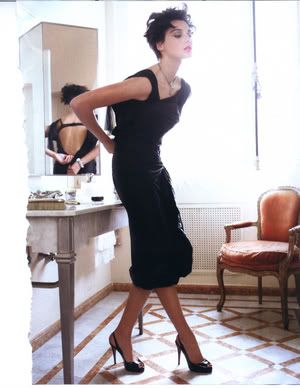 I'm feeling inspired and motivated to finally, finally attack that peril-fraught cave called "The Closet." Everyone's closet contains their own collections of dragons and monsters. Mine include those that go by the names of "Size 7" and "Club Girl" and "Nostalgia." These particular dragons are hard to rid myself of because I still look on them with love and longing. The danger is that I could end up transfixed, gazing at a reflection of what once was instead of experiencing what is. It's time to air out this musty cave and breathe some life back into it. It's time for a new vision.
I love clothes. I love old-fashioned glamour and grace. I love having an opportunity to dress up. I think it's half the reason I used to love clubbing. What I choose to wear has always been strongly tied to my vision of myself and my life. When it comes time to revision and revitalize, I often consider what clothes that includes. I know there are probably people that will react to that thinking it is so superficial. I disagree.
Clothing isn't neutral. It makes a statement to the world and to yourself about how you feel and who you believe you are. Colours and textures have energy. They contribute to how we feel and respond to things every day. We know this about art. Why would we doubt it about clothing? I feel like we have this spirit inside of us that's sparkling and radiating energy. When we wear clothes that are right for us, that energy is transmitted freely and shared with the world. When we wear clothes that don't fit our bodies or our person, we dampen the signal, feel muddled and hidden. Sometimes in our lives, we want to hide and that's often what's going on when we choose things that turn down the volume on our spirits. Some people need to feel safe in order to be seen. Some people need to find their courage. Some people need to tune in and find their signal and understand it better in order to express it.
And I do want to acknowledge that the fashion industry is often more of a foe than a friend in this arena. Many of us find it almost impossible to go to a store and see our magnificent selves reflecting back at us. The fashion industry lets us down when they don't celebrate a variety of styles and sizes and tastes. And I salute all those creative people who have sewn their own clothes or revisioned old ones, turning what's out there into raw materials for their genius. And I hope that in the greater creative community there will be subversive fashion designers helping all people shine.
For me, my life is changing, and I've been changing with it. Part of getting to know the new me is figuring out what I like to wear here and now.
For this, I turn to a technique I've been using since I was 15 years old. I indulge in fashion magazines, and I tear out anything that strikes my fancy. After gathering a strong sample, I look for clues. What are the trends? What do I consistently look for? What's the theme? If I had to title this collection, what would it be? Looking at my recent pics (above and below) I notice, as usual, lots of black, lots of glamour, plus simplicity and elegance. There's also sexiness and drama. For some reason the words "old world" keeps coming to me too.
So when I've cleared out the cave, I'll brave the stores. I've already done one scouting mission. I was attacked by oodles of 80's throwbacks, but I'm holding out hope. I've got some leads and have some ideas. This is my mission for August. I hope to share with you my success!