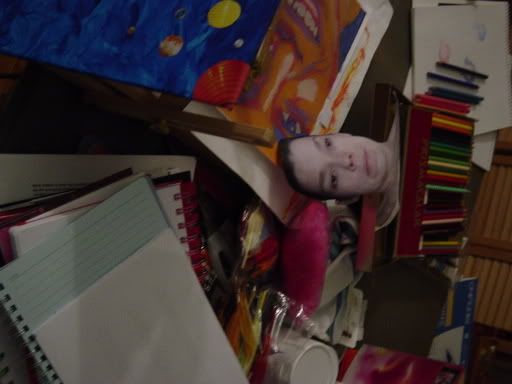 For this final installment of the "All of Me" self-portraits I am looking at my mess. Yep, there it is. Undeniably mess. Undeniably mine.
I think of myself as an organized and together person. I've got a passion for lists and planning. My datebook is my friend. And yet, I look around and see reflected back to me that I also generate mess. Papers pile up. Projects stay out. Things don't have a home. It drives me crazy. I can get overwhelmed when everywhere I look there is something that needs to be done. I get sad when I feel that there isn't a home for something, like there's a piece of my life that isn't being nurtured and taken care of. And I get mad when it all just seems to get in the way! Mess really pushes my buttons!
So, how do I fall in love with my mess? How do I not only accept it but celebrate it? I'm thinking back to my Wild Woman of Toronto self-portrait last week and seeing a theme emerging. I've been thinking about mess as all the stuff I need to put order to, make sense of, get clear on, take care of, control. This leaves me feeling judgemental, driven and discouraged. But what if instead I looked for the message in the chaos? What is chaos is trying to tell me? What is dying to bust out and be heard no matter how hard I try to make it behave? What part of me doesn't want to play by the rules?