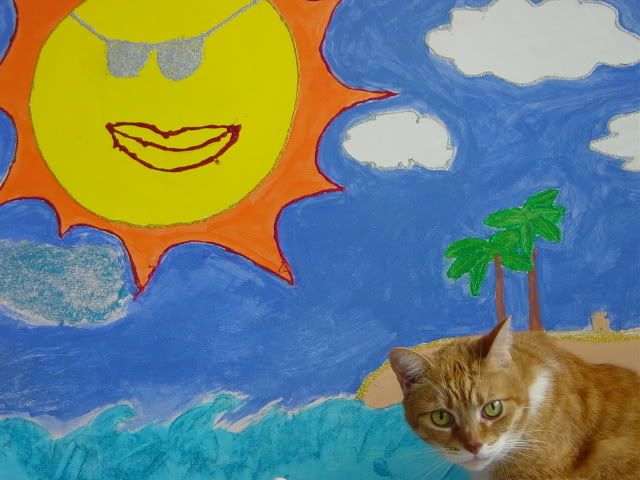 This picture still makes me laugh. This is our cat Jinx in front of a beautiful vista painted by our niece, my husband and myself. One day our niece came over to hang out, and we decided it would be cool to do a big art project all together. We went to the local art store and bought some kid paint, some glitter glue and a big piece of paper. We were set. We spent hours at our dining-room table painting and sparkling up our piece. We had a blast.

Not only was the day a lot of fun, but it reminded me that I really like painting. I hadn't painted for years (if you don't count apartment walls or trim). One of the lessons I learned was that little kid art stuff is not intimidating at all. So I went out and bought some just for me. It was fun and playful just to use familiar stuff. And because it's pretty cheap, I didn't worry about wasting it. And because it's pretty, well, crappy, I didn't worry about the end result. I just got hooked on the process and on having some fun.

This week I've been doing some work on mixed media collage. And thank you everyone who has been so encouraging about my explorations. I've had lots of fun painting backgrounds and figuring out what might work, what I like, what looks horrible (hehe) and what makes me go, Oooh. One of the things I've experimented with are those cakes of paint I used in elementary school. Today I had fun making happy backgrounds with the brightest possible little kid yellow and green. What a blast.

I'm so glad we had that play day with my niece. It really opened up a new world for me. As clearly it did for Jinx.